SET 2+1 FREE ALTAIO CBD hemp oil 2500 mg 10 ml
THE TWO-IN-ONE SET INCLUDES THREE 25% ALTAIO CBD OILS FOR THE PRICE OF TWO.
Altaio CBD Hemp Oil 2500mg is a completely natural product made entirely from organically grown Cannabis sativa L. hemp plants in Poland. The Golden Cannabis quality mark confirms that the product is regularly examined and tested to ensure the highest quality and safety.
CBD hemp oils with a concentration of 15% or higher are classified as stronger preparations and as such are recommended for people who have previous experience with cannabinoids or whose health requires the use of measures that produce immediate results, professional athletes or people looking for natural ways to treat aches and pains.
ALTAIO BORN IN NATURE
ALTAIO CBD 2500mg hemp oil is made only from organic and Polish hemp plants of the species Cannabis sativa L. Altaio oil is free of GMOs and heavy metals, making it a completely safe product that is regularly tested for determine cannabinoid content and microbiological purity. Our extract is made using the alcohol extraction method, which allows us to extract a much higher amount of valuable active compounds that have a clear and healthy effect on the product. We created a product that meets all the requirements for a natural and effective product that supports the therapy of various diseases by combining a very high concentration extract and unrefined hemp seed oil. You get a completely safe and legal product of the highest quality when you choose Altaio CBD 2500 oil, with a guaranteed content of natural cannabinoids, flavonoids and terpenoids.
CBD hemp oils with a concentration of 25% or higher are classified as extremely strong preparations and are recommended for people who have previous experience with cannabinoids or whose health requires the use of immediate effects. A dose of such a concentrated product should produce remarkable results in the treatment of pain, neurosis or insomnia, as well as being an excellent supplement for the treatment of chronic diseases.
Altaio CBD Hemp Oil contains a guaranteed 2500mg of natural CBD cannabidiol (250mg/1ml) as well as a full spectrum of cannabinoids including CBDA, CBG, CBN, CBC and THC which is less than 0.2%. One bottle will last approximately 30 days. When using CBD products, it is recommended to use the amount indicated on the label and adjust the concentration of the oil according to your needs to increase the effects of the oil.
One drop contains approximately 12.5 mg of phytocannabinoids.
The daily serving contains 75 mg of CBD (natural cannabidiol).
WHAT IS THE GOLDEN CANNABIS QUALITY CERTIFICATE?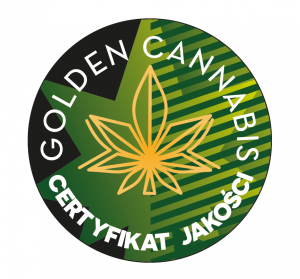 Golden Cannabis is the first fully professional independent testing and certification unit for hemp products in Poland. Testing is done to ensure quality and compliance with the composition and cannabinoid content suggested by the manufacturer. In other words, they verify the content of a given product using advanced research to provide consumers with reliable information and laboratory test results. His efforts resulted in the creation of Poland's first public database of honest and trustworthy growers who meet high production standards and are distinguished by the Golden Cannabis quality mark.
ALTAIO – NATURAL HEMP CBD OIL 25% (2500 MG), FULL SPECTRUM 10 ML
Made in poland
Pure extract of whole hemp plants of the species Cannabis sativa L.
Unrefined hemp seed oil from the species Cannabis sativa L.
Alcohol extraction – the only extraction method that allows you to extract such a large amount of active compounds
Product extensively laboratory tested in accredited independent laboratories
Guaranteed amount of natural cannabinoids (2500 mg CBD)
Full spectrum of natural cannabinoids, flavonoids and terpenoids
Totally safe and legal product – THC content < 0,2 %
Easy application and liquid consistency in oil form
Dark bottle with a comfortable and precise pipette
Natural deep greenish brown color
Polish organic crops
100% natural – non-GMO, no preservatives, no allergens, vegan product
HOW TO DOSE CBD HEMP OIL?
When using hemp products, it is critical to select the right dosage and concentration for our bodies. This amount can vary depending on body weight, condition, body tolerance to cannabinoid assimilation and the purpose for which the CBD will be used. Since phytocannabinoids are degraded in the human body after approximately 6 hours, it is recommended to increase the frequency of use to 3 times per day for people who want to increase the effectiveness of the product.
Composition:
Hemp seed oil (Cannabis sativa L.)
Whole plant extract of hemp (Cannabis sativa L.)
Recommendations:
It is recommended to adjust the dose to your own needs, observing the reaction of the organism and the results obtained.
One drop of Altaio CBD 1000mg hemp oil contains 5mg of CBD and small amounts of other cannabinoids, terpenoids and flavonoids.
Protect from light.
Keep out of the reach of small children.
If you use CBD paste to support the treatment of various diseases or to improve your overall health, you should consult a doctor beforehand. Due to unregulated legal regulations in Poland regarding CBD hemp products, these products should not be consumed, even for medicinal purposes and without a prescription.
| | |
| --- | --- |
| CBD(mg) | |
| Mililitros (ml) | 10 ml |
| THC % | -0,2 % |
| Sabor | Natural |
| Type | |